---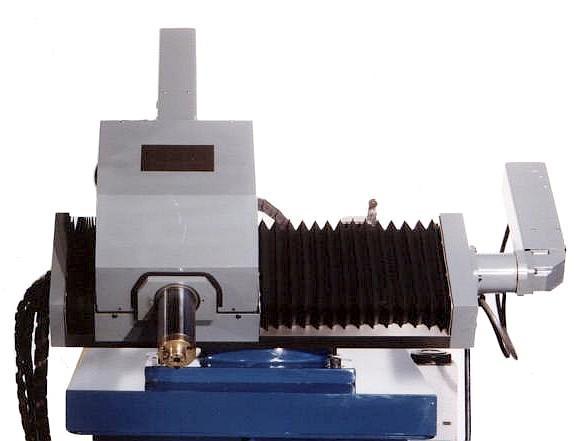 Two Axis CNC Profile Dresser
The RSS Two Axis CNC Profile Dresser breathes new life into any centerless grinder. Designed around an operator-friendly touchscreen interface, the dresser brings the power of CNC machining to your grinder without any of the headaches of programming G-codes.
Equipped with two servo motors, nearly any profile can be accurately dressed in a minimum of time.
The dresser provides both linear and circular interpolation capabilities to allow tapers and arcs in your profile.
Due to the simple and clean design of the touch-screen interface, an operator needsno prior knowledge to operate the dresser. An unlimited number of different profiles can be stored on the dresser permitting quick change-over from one task to another. The color touch-screen monitor is mounted on a pendant near the actual dresser for convenient operation. Several push buttons are also provided for functions such as emergency stop, retract, cycle start, jogging and compensation.
Key Benefits
Operator-friendly Color Touch Screen with familiar Windows-based interface.

Easily programmable to generate linear steps and tapers as well as radiuses and arcs.
No G-codes required! All commands in plain English.
No prior experience with computers necessary. Easy to learn.

Available for Grinding and Regulating wheels.
Designed with reliability and accuracy in mind

Manufactured from stress relieved castings to ensure rigidity and stiffness under load.
AC Digital Brushless Servo Motors and Amplifiers
Precision Ground Ball Screws with zero-backlash nut assembly on both axes.
Precision frictionless roller slides for longitudinal axis (Y axis).
Diamond advance (Z Axis) monitored by linear glass scale for accurate positioning.
Resolution: 0.000 010" (on motion and feedback).
Repeatability: 0.000 020"

Open PC Architecture

Modern class processor
Delta Tau PMAC Motion Controller
Supports linear and circular interpolation

Dedicated software designed especially for Centerless Grinding.

Can be integrated with other CNC options and accessories
Can be customized to suit different applications.
Unlimited Part Programs stored on hard drive for future retrieval.
Fifty character file name and description stored with each part.
Unlimited number of moves per program.

Quick and easy setup

Automatic homing supported on longitudinal axis.
Remembers last position on power-down.
Multiple jogging speeds and joystick.
Many adjustments available:

Possible to set an individual feedrate for each move.
Vertical and Horizontal offsets to adjust entire profile at once.
Tool width compensation to automatically adjust for width of diamond.

Can be installed in new or retrofitted on used grinders.
All controls in stand-alone enclosures for easy retrofit in the field.